Wedding contests - we set Olympic records
A healthy lifestyle is becoming increasingly popular. On billboards you can read: "Smoking is not fashionable," "Drinking is not fashionable," and the like. It played its role or not, but many young people began to actively engage in sports than before. It is not surprising that some couples want to play weddings in a sporty style.
Wedding contests are a very important part of the wedding script. Choose a themed wedding in one style or another - it means that entertainment for guests should be in the same vein. Let's think together about what could be a wedding sports celebration.
If you are really in good shape, you can include a parachute jump, horseback riding, or even diving into the wedding program.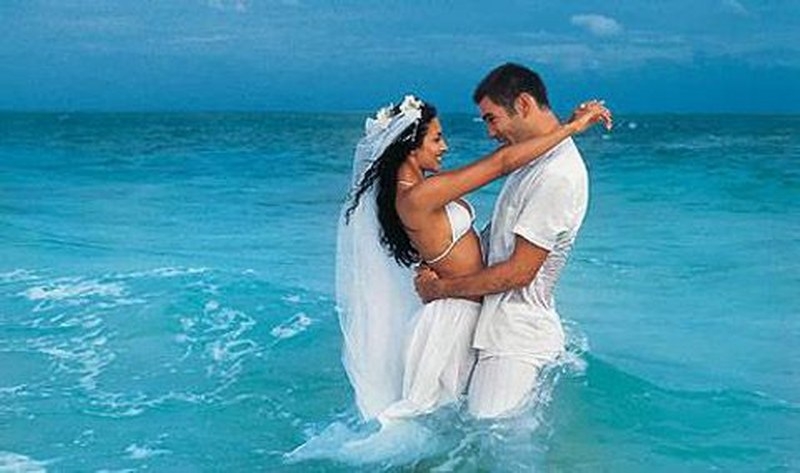 As for the costumes of the bride and groom at the celebration, you should not overdo it: you hardly need to wear sports suits and sneakers, just add some symbolic attribute to your image, for example, a small floral arrangement in the form of Olympic rings.
Invitation to the wedding, make in the form of tickets to the stadium or sports lotteries - at the same time and play them at the celebration.
On the table can be cups in the form of cups, and the cake - in the form of a hill with a springboard.
But when it comes to competitions, there should be as much movement, activity, and dynamism as possible. Arrange "Merry starts", only, of course, comic. And here any sports are suitable. For example, check the strength of the guests. Let the boys and girls compete in lifting weights, while the first will have small but heavy weights, and the second will have huge but inflatable ones. And let the groom several times raise the bride.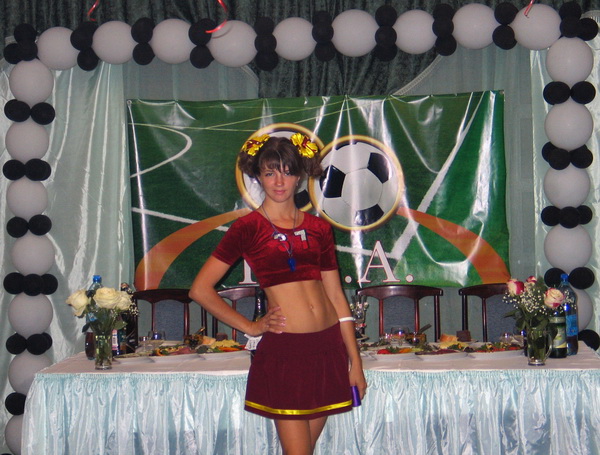 Do not forget that most men in general and your guests in particular, probably have a favorite sport - football. Hold a football match with a real commentator and strong support from fans! Only, of course, not with a real soccer ball and broken glasses in a cafe. Inflatable ball fit. Well, let the players put on foots ... flippers.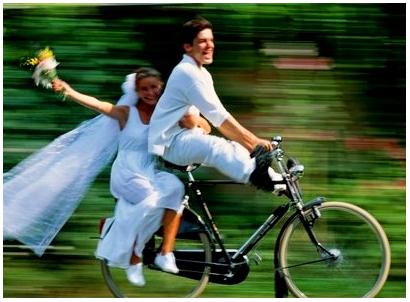 Offer guests to also become boxers. Boxing gloves for a couple of minutes will need to crush as many balloons as possible.
We select further competitions for the wedding. Now - check for accuracy. Choose a few pairs. Men are blindfolded and given a string with a pencil tied. They should get into the bottle with a pencil (only the neck should not be too narrow, otherwise the competition will be delayed in time). They will help in the accurate hit of a woman with their clues (to the left, to the right, above, etc.).
How flexible is the groom with the bride and their guests? Let them demonstrate it, passing under the rope, which is lowered lower and lower. The condition is that you cannot lean forward, therefore you will have to bend your knees and bend backwards.
Sports-style wedding contests suggest that there should be a variety of medals and cups as prizes - so stock up on them in advance and don't forget to pick jokes about them. We wish you success, fantasy and new sporting success!
Recall also that among themed weddings may be knightly, in retro style and others.
Take it to yourself, tell your friends!
Read also on our website:
Wedding traditions in Russia - what young people need to know
Many young couples honor wedding traditions and dream of having a wedding in accordance with them.It is believed that the implementation of certain rules contributes to the happy life of a new family.
Wedding scenario - the feast of the king and queen
A royal-style wedding script is an opportunity for the newlyweds to feel like a king and queen. Of course, this is a troublesome, but workable. Here you will need a team of assistants or professionals - they will represent the royal court.
Wedding contests - a trip to a fairy tale
Play a fabulous wedding, because fairy tales are a blessed material for such an occasion. We all remember from childhood that fairytales have a happy ending, and if they have lovers, then the whole wedding will end. Wedding contests take you into the world of magic and miraculous transformations.
Wedding scenario for the master in the style of TV
Do you want to arrange not just a wedding ceremony, but a bright theatrical celebration that you and your guests would remember? Then feel free to experiment! The wedding script for the toastmaster in the style of TV will make you a TV star, guests - participants of your favorite TV shows.Television show is always a bright spectacle, which means it is perfect for a wedding.
Wedding script for the toastmaster at the exit ceremony
The wedding scenario for a toastmaster or presenter should not consist only of contests and toasts in verses. A good presenter from beginning to end is part of the celebration. Even in such moments as an exit ceremony. We offer tips on conducting in our article.
Cool wedding contests - light up!
Cool wedding contests will create a great mood. Only it is necessary to decide on their participants correctly, to offer contests to those who will be really happy to have fun. Among the wide variety of contests choose those that suit your guests.
Wedding competitions for real knights
If you have conceived a wedding in a knightly style, then try to have the details of the era of brave knights and beautiful ladies in everything: costumes and interior, table setting and menu. And the main thing is that the wedding contests should also be knightly. By the way, they give a huge scope for fantasy.
Wedding contests - interesting ideas
Wedding contests will help make the celebration bright, fun and memorable. Have you already decided what kind of wedding you like - classical, extravagant, in the Greek style or the style of the 80s? Then your toastmaster is the time to start making contests, using all your imagination to please and surprise both you and your guests. Surely you expect unforgettable surprises!
Wedding script for toastmaster - the key to a bright celebration
Wedding scenario for the master of ceremonies - the first step in the preparation of the upcoming celebration. Each couple dreams of their wedding being bright, original, in a word, the most-most. However, for this you need to think over all the details in advance and create a creative scenario. And you can make it only after a close acquaintance with the main characters of the future holiday.
Wedding script for the master of ceremonies - a recipe from a modern presenter
Wedding scenario for the toastmaster - tips and tricks from one of the most successful leading weddings of Alexander Ellert.He also spoke about the intricacies of preparing for the event, shared with me the secrets of a fun and interesting holiday.
Beauty turkish, show face
Do you like the thrill and novelty? Do you adore noisy fun, a huge number of guests, dances, sweets and the absence of alcohol? Then the Turkish wedding is the holiday that meets your desires.
Wedding in red
In our time, the wedding script is a mini-performance in the chosen style. Some want the celebration to be different from others, they are not bothered by the idea that the most important celebration of life can be boring, fresh, without zest, noisy fireworks and champagne fountains. The ceremony in Chinese is carried out not by many, and this happens, indeed, rarely.
Related news